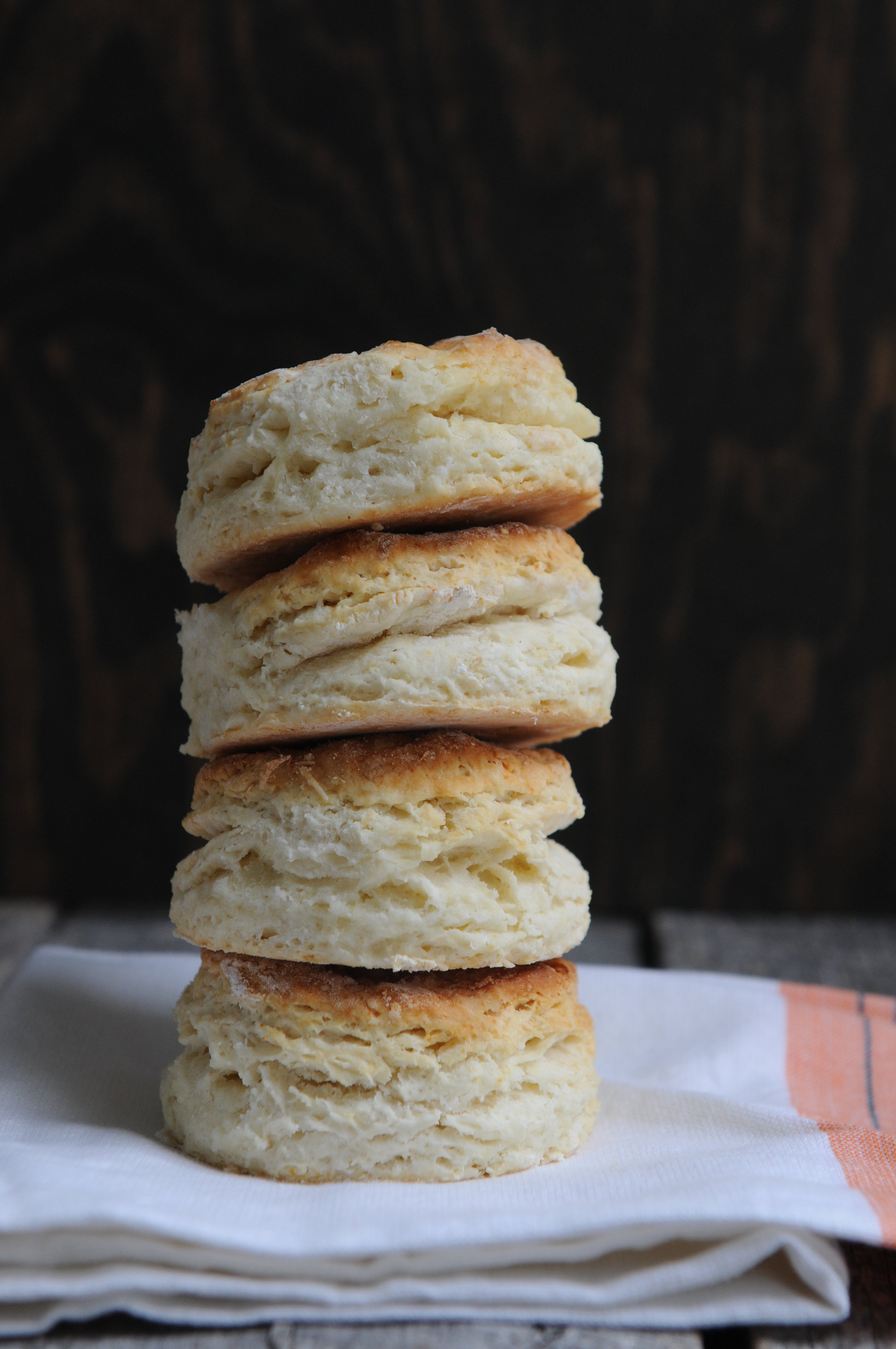 OVERSIZED CHEDDAR + CHIVE BISCUITS
About the Recipe
These utterly divine biscuits are good all year 'round but I particularly like them in fall and winter. Their warm, rich comfort-food quality is particularly satisfying as the air chills.
I've been making them since the 1990s when I picked up a freebee recipe card at Manhattan's BLT Steak. Although I immediately lost the card, I did the best I could to recreate these savory treats based on taste memory. I no longer remember how much they taste like the original, but I do know that they are VERY good.
Serve with basic steak, fish or roast chicken, and turn basic weekday fare into dinner for company. If you prefer, replace the cheddar with Gruyere, Manchego, or even a good blue cheese. It's hard to go wrong.
Oversized Cheddar + Chive Biscuits
Yields 10-12 Biscuits
Ingredients
1 1⁄2 cups all-purpose flour

2 teaspoons baking powder

Scant 1 teaspoon fine sea salt

1⁄8 teaspoon cayenne pepper

6 tablespoons very cold unsalted butter, cut into small pieces

1 heaping cup grated sharp cheddar cheese

3⁄4 cup very cold heavy cream, plus more as needed

3 tablespoons chopped fresh chives
Method
Using a stand mixer fitted with the paddle attachment or an electric handheld mixer set on low speed, combine the flour, baking powder, salt, and cayenne pepper.

Add the butter and mix on low speed for about 30 to 60 seconds, or until the butter pieces are the size of small peas.

Add the cheese, cream, and chives. Mix until the dough just begins to come together. Do not overmix. The dough should be relatively dry, but if it's really too dry to come together, add more cream, 1 to 2 teaspoons at a time, as needed.

Turn out onto a floured work surface and gently pat (do not roll with a rolling pin) the dough until it's about a 1⁄2 inch thick. Fold the dough layer over 5 times and then gently press it into a rough rectangle about 1 inch thick.

Use a sharp knife to cut the dough into 12 squares. Alternatively, cut into 10 to 12 circles with 2-inch round biscuit cutter. Place the raw biscuits at least 1 inch apart on a cookie sheet lined with parchment paper, cover, and refrigerate.

OR: Instead of following Step 5, the dough for the biscuits can be patted out into 1 large 3⁄4-inch-thick circle, and then cut into 12 wedges; or rolled into logs about 2 inches in diameter and cut into 1-inch thick slices.

Preheat the oven to 425°F. Remove biscuits from the refrigerator.

Bake for 18 to 25 minutes, or until golden and cooked through. (If baked straight from the freezer, increase the baking time by at least 5 minutes.)

Remove from the oven. Serve warm, within 15 minutes, if possible.

TIP: If you must wait longer than 15 minutes before serving, you can certainly serve the biscuits at room temperature. However, they're better warm. Simply pop them into a 350°F oven and reheat for about 5 minutes. The biscuits can be baked up to 6 hours before serving.