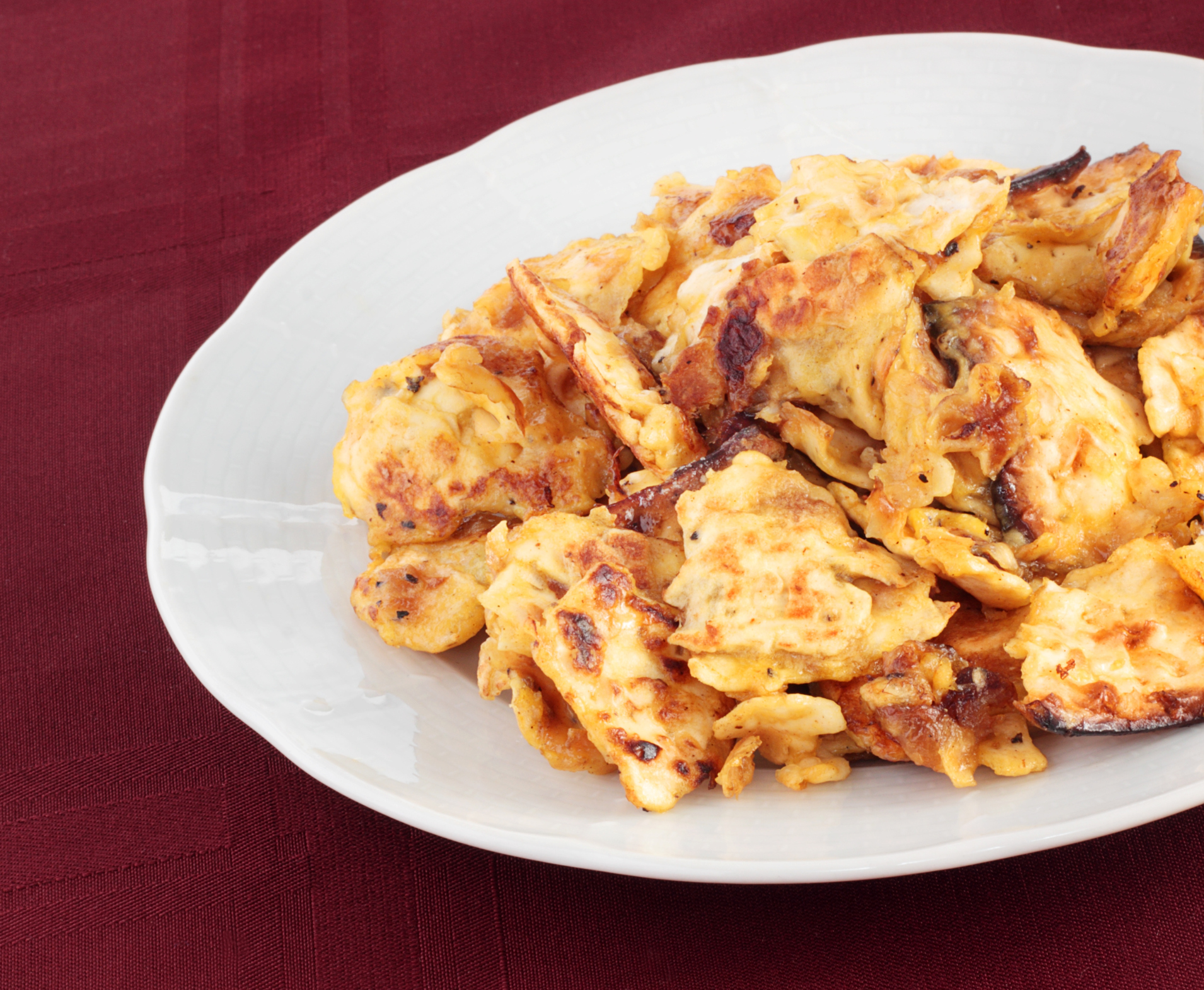 About the Recipe
If you aren't already a fan, take one buttery bite and you will be. Matzoh brei—or fried matzoh, the literal translation from the Hebrew—is a supremely satisfying, buttery scramble of eggs and crumbled matzoh, a Passover favorite for Jews the world over. And, if a small polling of personal friends means anything, it's a huge hit with non-Jews too. Traditionally breakfast fare, this simple substitute for French toast is makes an equally comforting lunch or supper as well.
Some insist that Jews fleeing Egypt invented fried matzoh the minute they hit the Sinai; but in actuality, the basic recipe-- moistened matzoh mixed with a couple of beaten eggs and fried--was invented just 150 years ago--or in Jewish terms, yesterday. Although the recipe remains more or less unchanged, the exact method of preparation varies from family to family. One (probably Sephardic) version treats the mixture like a frittata or big pancake. Brown one side, flip and brown the other, and then cut into wedges to serve. Some cooks add fridge leftovers and/or favorite spices or cook their brei in chicken fat (schmaltz) instead of butter.
A purist, I prefer like my matzoh brei straight up, but my kids eat theirs with maple syrup and various aunts, uncles and cousins swear by garnishes of applesauce and sour cream, jam, jelly or a hefty sprinkling of sugar. Another popular option is to add vanilla, cinnamon and sugar to the egg mixture as though making French toast.
Whether sweet or savory, scrambled or frittata-like, or soft or crunchy, try matzoh brei during Passover, and you'll discover a million reasons to eat it all year long.
MATZOH BREI (fried Matzoh)
Serves 4 to 6
Ingredients
8 eggs

1/2 teaspoon salt

1/2 teaspoon freshly ground black pepper

8 sheets plain matzoh, broken into quarters

8-10 tablespoons unsalted butter
Method
In a mixing bowl, beat the eggs with the salt and pepper. Break the matzoh into irregular, smaller pieces and place in another bowl, add hot water and swish the matzoh around in the water for 20- 30 seconds until softened but not mushy.

Strain well and add the strained matzoh to the egg mixture, tossing gently to coat (trying not to break up the matzoh), set aside.

In a large skillet over medium heat, melt the butter. When the foam begins to subside, and add the eggy matzoh to the hot skillet. Cook undisturbed for 60 seconds and then gently scramble until some bits are brown and some remain soft, about 3-5 minutes. Add more salt and pepper to taste. Serve immediately.