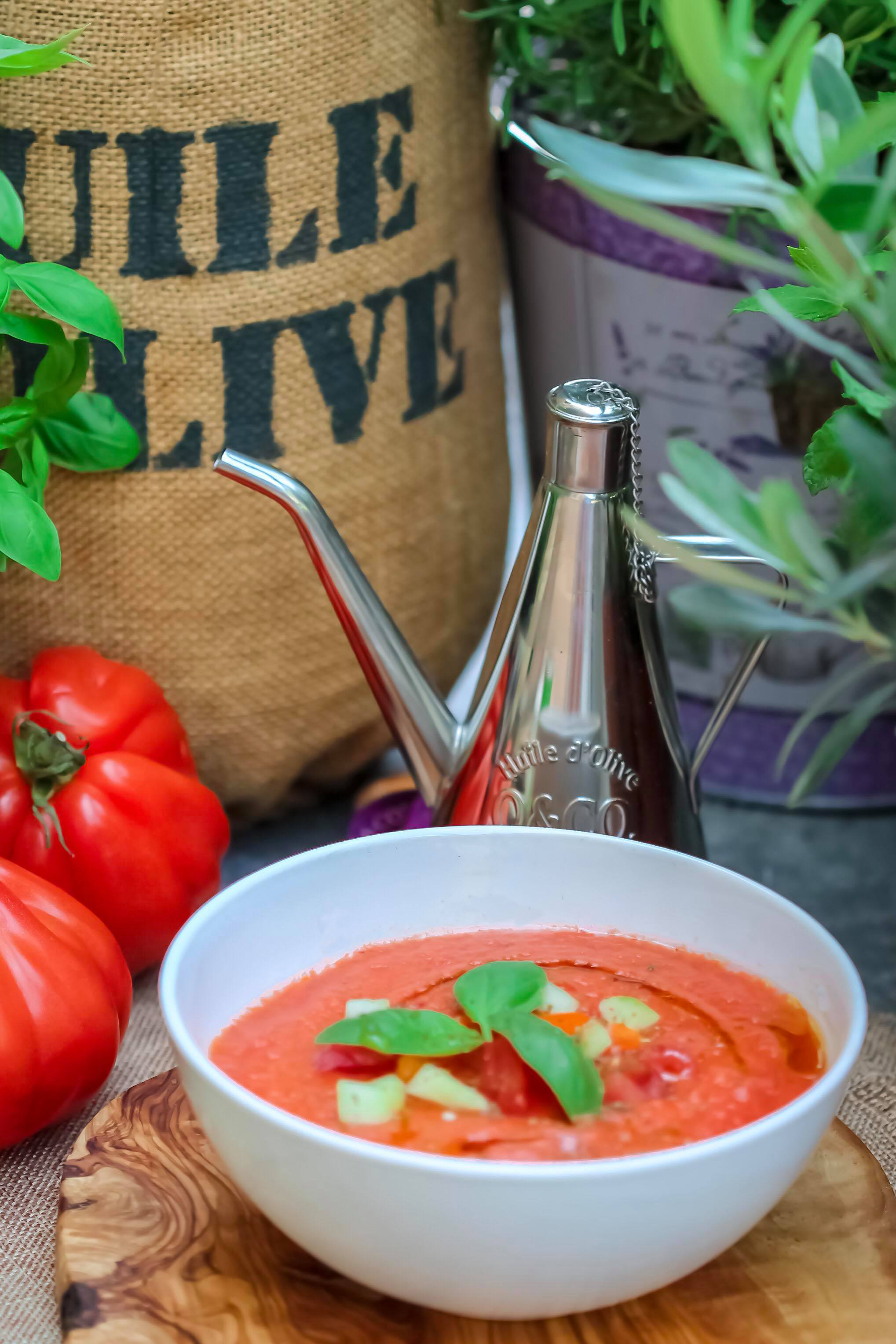 BAR BAHIA'S GAZPACHO ANDALUZ
About the Recipe
Whether chunky or smooth, light or robust, gazpacho is a delightfully refreshing way to start almost any summer meal. Often described as "liquid salad," Andalusia's most famous dish first appeared during the Middle Ages. The name most likely derives from the Roman caspa meaning "fragments" or the Hebrew gazaz meaning "to break into pieces," both words alluding to the broken bread which held center stage—the supporting roles played by water, vinegar and garlic--in all early versions of the soup.
The starchy amalgam represented lunch for local field workers until the 19th century when raw vegetables—typically tomato, onion, cucumber and bell pepper—joined the mix, eventually replacing most or all of the bread. Each Andalusian province developed a signature version; and in no time, the popularity of this nutritious-delicious, multi-purpose answer to V-8 juice spread throughout Spain where it's still served before, after, or alongside many meals. For me, it's a perfect snack or pick-me-up as well. Long ago, taking my cue from Penelope Casas' 1996 cookbook, Delicioso, I started keeping a cooling pitcherful in my fridge all summer long. It's a huge hit and goes quickly, but constant replenishing is child's play as it's thrown together in minutes. Get a head start and make dinner party versions several days in advance. The soup mellows and flavor deepens while waiting in the fridge.
The recipe below is adapted from Delicioso. Casas gives us Bar Bahia's legendary take on the traditional tomato dish which she describes as "the standard by which all other gazpachos in Cadiz are measured." Here--as in many of her recipes-- Casas uses a combination of white wine and sherry vinegars to simulate the taste of a local golden variety. Include lump crabmeat or diced shrimp for a heartier starter or light main course. Scattering the selection of minced veggies atop either version further enhances and beautifies.
Bar Bahia's Gazpacho Andaluz
Serves 8
Time: 5-10 minutes
Ingredients
2 pounds very ripe, flavorful tomatoes, quartered

3 green frying peppers (approximately 6 ounces total), seeded and coarsely chopped

1 medium organic Kirby cucumber, coarsely chopped (peel if not organic)

1 medium sweet or yellow onion, peeled and coarsely chopped

4-6 cloves garlic, peeled

3/4 cup extra virgin olive oil

1/2 teaspoon salt or more to taste

1 teaspoon sugar

6 tablespoons best quality white wine vinegar

2 tablespoons best quality sherry vinegar

1 cup ice water (or part ice, part water)

Finely chopped tomato, green pepper, and/or cucumber for garnish (optional but highly recommended)
Method
Place all ingredients except the water and the garnish vegetables in a blender. Process to as smooth a consistency as possible

Add the 2 cups water

If needed, stir in more salt and vinegar a little at a time until the flavors are completely developed. Chill thoroughly. Add more ice water if too thick and readjust salt and vinegar. Serve in chilled bowls with an ice cube—or several small ones—in each bowl to keep the chill.

If using, sprinkle each portion with the chopped vegetables or pass them in small bowls.