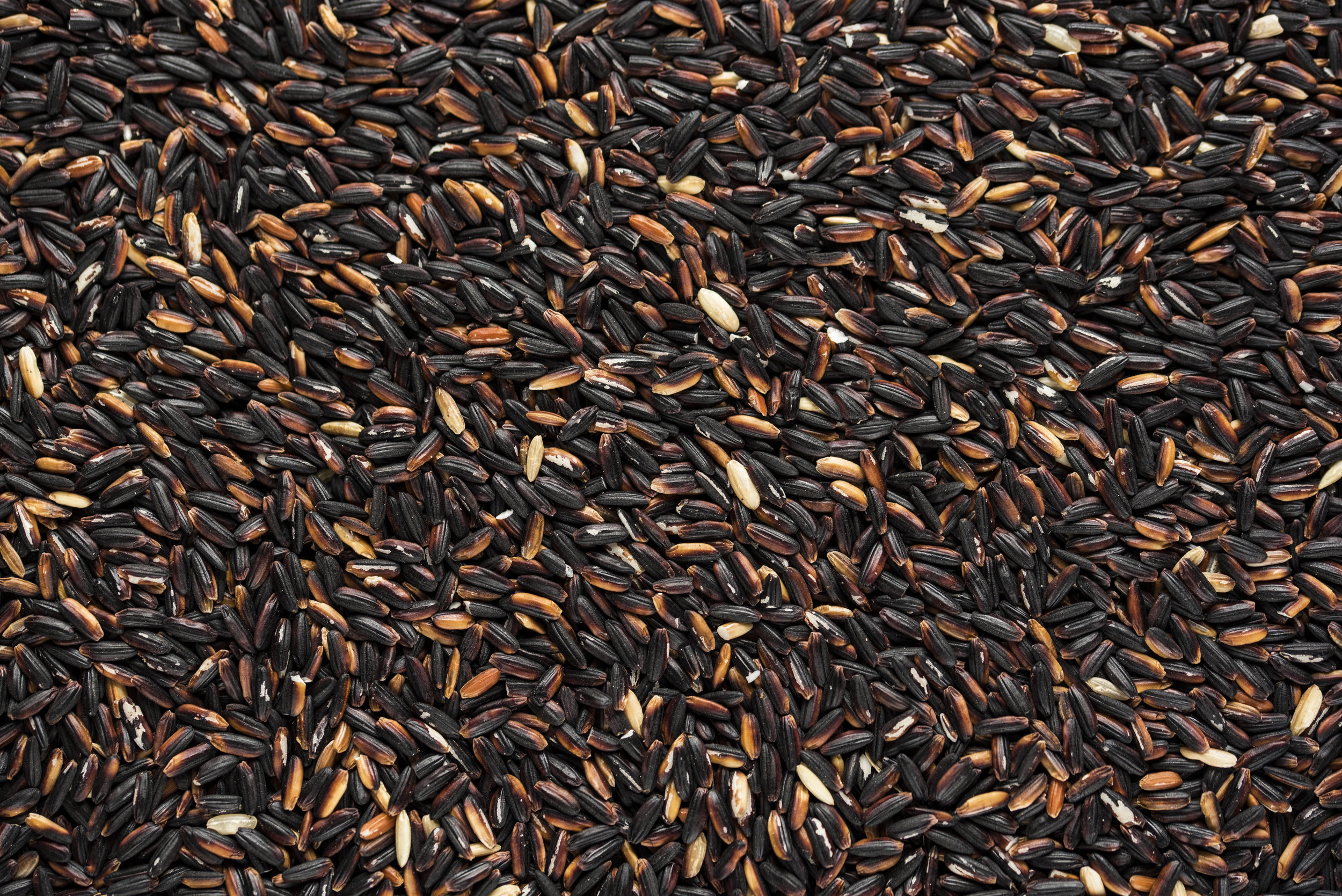 with shrimp, scallops, lemongrass and ginger
About the Recipe
This Filipino take on Spanish paella is one of my favorite seafood dishes on the planet. I used memory to recreate a dish I ate in the 1980s at Cendrillon, a fabulous, hole-in-the-wall restaurant then in Soho. I imagine my invention is quite different from the original but I did the best I could. In any case, I promise it is absolutely delish.
And, if you're not familiar with it, black rice---chewy and flavorful-- is fabulous all by itself, let alone enhanced by the seafood and complex, enigmatic sauce.
I admit that this "paella" is a bit of a hassle to prepare, but I find it more than worth the effort, especially when entertaining a crowd: the perfect solution to dinner for 20 or even more. However, if doubling or tripling the recipe, do use 2 or 3 large baking dishes rather than trying to cram everything--piled high--on to one.
This is essentially a one-dish meal though I like to serve a big salad on the side. A fresh fruit and meringue dessert of some sort--a Pavlova would heaven-- is the ideal finale. Though--for those of you who don't have the energy to make meringue--- a huge fruit salad--without the meringue--is perfect in summer. And in winter, tangy citrus or even a simple pear or apple tart fits the bill nicely.
Any version of cold yogurt soup makes a great first course in summer. And in winter I like to surprise people and serve fragrant, light and refreshing spring rolls.
Black Rice Paella with Shrimp, Scallops, Lemongrass and Ginger
Serves 6-8
Ingredients
2 cups black rice

1 yellow onion, finely chopped

4-6 tablespoons neutral vegetable oil (such as canola), divided

1/4 teaspoon vanilla

2 cups vegetable stock

1 ½ cups fish stock or clam juice or more vegetable stock

2 stalks lemongrass, pounded and cut into 4 inch lengths

8 cloves garlic, peeled and minced

1 red onion, peeled and minced

1 small jalapeno pepper, minced

1 red bell pepper, finely diced

2-inch piece fresh ginger, peeled and minced

1 1/2 cups canned coconut milk

4 tablespoons Vietnamese or Thai fish sauce (or more to taste)

juice of 1 lime (or more to taste)

honey to taste (1-3 teaspoons)

2 cups cherry tomatoes, quartered

1 pound sea scallops

2 pounds shrimp

neutral vegetable oil plus garlic plus red pepper flakes for searing seafood

Fresh cilantro and scallions for garnish
Method
First prepare the rice: rinse the rice in a sieve. Heat a 4 quart pot over medium heat. Add 2-3 tablespoons of the oil and heat. When it is hot, add the onion and cook until soft, about 5 minutes. Add the rice and stir, cooking for about 1 minute. Add the stocks and vanilla with the lemongrass pieces. Bring to a boil. Cover and reduce to a simmer until al dente, about 25 minutes. When it is cooked to desired chewiness, drain any excess liquid from the rice and replace rice in the pot. Cover with a lid and keep warm until ready to use or reheat later.

Preheat the oven to 400 F. While the rice is cooking, heat a deep skillet or wok over medium heat. Add 2-3 tablespoons of oil and heat through. Add the red onion, garlic and jalapeno. Cook for 5 minutes, stirring occasionally. Add the ginger and bell pepper and cook for another 5 minutes, stirring. Add the coconut milk, fish sauce and juice of 1/2 lime. Taste for more lime juice, fish sauce, and some honey to sweeten. Let simmer for 5 minutes or more to let the flavors meld. Stir in the tomatoes. Taste once more for the 3 seasonings--sweet, salty and sour.

Grease a large baking dish. Layer the rice in it (remove the lemongrass if you do not want to pick it out later). Pour the coconut sauce over that. Cover the casserole tightly with foil and place in the preheated oven until very hot, about 25 minutes.

While the casserole is baking, prepare the seafood.

Toss the seafood with salt and pepper. Add oil to a nonstick skillet, heat to sizzling and sear the seafood in batches. After the casserole has baked for 15 minutes, turn the oven heat off. When you are close to finishing the seafood, remove the casserole from the oven (do not let it stay in the oven for longer than 25 minutes), but leave it covered until you are ready with the seafood. Serve the seafood on top of the rice and vegetables. Strew with lots of chopped cilantro and scallions.